BLACK FOREST FIRE: Transit of Venus
SEDlp058 | Released in 2012 | Ltd Edition 500 copies | $12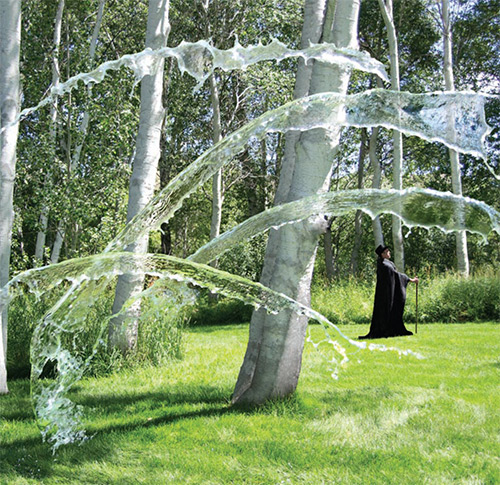 Original artwork: StormStudios(designed by legendary Storm Thorgerson of Hipgnosis)
Sedimental deviates from its carefully fostered experimental music identity to release the debut of this Austin based indie pop trio. We have indeed released music in this realm in the past however (Hail/Snail, Susanne Lewis solo and even our first double 7" Town & Country compilation). So when we were approached about this project it was not such an alien opportunity, on the contrary, given the quality of the songs, the simplicity and clarity of the musicianship, and the pedigree of the musicians themselves it was a rather easy and natural decision, not mention indulging our own personal, highly eclectic tastes in the process. With its hypnotic drumming, driving bass, boy/girl dream-pop vocals, and chiming arpeggiated guitars building to swirling blasts of distorted reverb, "Transit of Venus" is a woefully beautiful and darkly powerful sonic commentary on a modern world gone mad.
Band Biography
Black Forest Fire was formed in Austin Texas out of a dare between future drummer and vocalist Karen Skloss and guitarist and vocalist Jay C. Tonne Jr. Karen met Jay in 2010, and no matter how many infamous indie rock legends Jay told her he had played with, she held true to her story that she was a 'good drummer'. So after a night of steady drinking, Jay finally dared Karen to break out her drums, then collecting dust at Rayon Beach's Tom Sutherland's house, and the band was born. In their first night of playing together, Jay and Karen wrote several songs and Jay quickly decided to abandon his recent regrettable decision to give up music for a career in environmental engineering. Karen's heavy, emotional drumming inspired Jay to mine deep into his childhood love of sparse 80's new wave and early 90's shoe-gazer guitar sounds. Jay played the demo recordings for his friend Doug Walseth, and Doug joined as bass player and multi-instrumentalist to fill out the sound as a next dimension in dream rock space pop.
Within months the band caught the attention of producer Chris 'Frenchie' Smith, and began recording at The Bubble in Austin. Although Jay was already sabotaging his once-promising career in engineering, Karen had worked hard to earn a reputation as a talented visual artist and filmmaker, and through her work in film the band met the legendary rock album cover art design master Storm Thorgerson during SXSW 2011 (Dark Side of the Moon, Houses of the Holy, Cranberries, Muse, Mars Volta…). Storm took to the band and their music and agreed to create the artwork for their forthcoming album.
With Storm on board, the band went back into the Bubble with Chris and finished 8 songs in six days, topping off the previous session with 13 complete songs. Paring that down to 10 songs mixed and mastered at Cacophony Studios in Austin by Erik Wofford, Black Forest Fire had a record.
So Black Forest Fire of Austin Texas is releasing their full length LP and CD debut, "Transit of Venus", on Massachusetts' Sedimental Records label in March of 2012, with beautiful and mystifying cover art by Storm Thorgerson and Storm Studio's. With hypnotic drumming, driving bass, boy/girl dream pop vocals, and chiming arpeggiated guitars building to swirling blasts of distorted reverb, "Transit of Venus" is a woefully beautiful and darkly powerful sonic commentary on a modern world gone mad.

Jay C. Tonne Jr. - guitar player and singer, the black sheep of a disgraced and fallen cadet branch of Irish aristocracy, destroyed a once promising career in science and engineering to pursue the legendary ancient Hermetic secret of the occult philosophers, Neo-Platonists, and alchemical Christian Cabalists – rock and roll. Completely wasting his civil engineering degree at U.C Berkeley, Jay quickly became immersed in the reckless life of the artist, explorer, poet, and playboy. Disgusted with the pathetic folk art hippie funk scene of the Bay Area, Jay landed in Southern Cal to play real rock music in Echo Park with some of the neighborhood's biggest outcasts and degenerates– Rilo Kiley, The Warlocks, Whiskey Biscuit, Beachwood Sparks, Whispertown, etc. Following his heart, Jay wound up in Austin with a wealthy Texas heiress with whom he had been carrying out a scandalous affair. In a vain attempt at redemption, Jay pursued a life of near sobriety and a career in engineering and policy analysis for the Perry administration. The heiress, however, quickly scurried off to Mexico, and abandoned and alone in Texas, Jay it gave it all up once again for rock and roll in the seedy underworld debauchery of the Austin's east side.
Karen Skloss - the unrecognized daughter of South Texas blue-bloods, Karen was raised in a middle class family in Austin far away from the trappings of her elevated and extended biological family. A brief period of status, insanity, and familial comfort followed her being recognized by her illustrious Victoria family, but ended when Karen refused to settle down her wild ways, give up art, music, and film, and marry the wealthy boy selected for her by her Mayor of Victoria and self appointed judge of all that is proper grandfather. So Karen escaped back to Austin to pursue her bohemian lifestyle and quickly rose above her tumultuous upbringing to become a celebrated member of Austin's art and film community.
Doug Walseth – a Central Texas refugee from his tanned and blond Southern California Nuevo Riche family, Doug attended a few semesters at UT Austin before abandoning his studies in computer science to play guitar in Austin rock and roll bands such as Slow Train, Crawling with Kings, Bryce Clifford, and now Black Forest Fire. The only true musician and talented member of Black Forest Fire, Doug's dedication to music is easily demonstrated by his mastery of guitar, pedal steel, banjo, keyboards, bass, and percussion.
http://www.facebook.com/pages/Black-Forest-Fire/100833696627449