Olivia Block: Pure Gaze
SEDCD02 | Released in 1999 | 500 copies | $10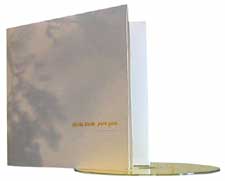 MP3s
Pure Gaze sample (1:22 / 1.2MB)
download
The debut release from the talented Chicago-based composer Olivia Block. In the few short years of her re-location from Austin, Texas to Chicago she has become a noted figure within its underground and experimental circles performing at the Women's Avant Fest(Lounge Ax) in '97, The Eye of the Ear Sound Festival(Links Hall) in '98, and Women Mixing in Sound Festival(Artemesia Gallery) in '98, as well as playing trumpet for a Palace Bros. Project and colloborating in live performance with Pauline Oliveros.
Block is an electro-acoustic and modern instrumental composer whose recorded compositions combine layered, processed wind and string instruments with processed sounds from sections of field recordings she has collected from various natural landscapes. Her performances include minimalistic scored musical sections played live by a quintet accompanied by taped material , often sounds of field recordings, or the same quintet previously recorded and electronically manipulated. Block herself "plays" found objects and instruments (trumpet). The resulting surrealistic sonic landscape and the contrast between these elements create a paradoxical element to the work. In all of her recent works she emphasizes comparisons between organic or "real" sounds and electronic ones, and she demonstrates how electronic technology imitates natural evolution using similar sounds from both worlds. She also explores the difference between "sound" and "music" and the creation of experience through emotional, subjective or intellectual, objective means.
Olivia Block is self-taught, and began her process in the art-pop band The Marble Index, where she sang, played guitar, and created abstract tapes for parts of the songs. She left the band in 1995 and began concentrating on electro-acoustic compositions. Soon after she joined Alial Straa, an improv-and experimental group with John Grznich and Seth Nehil. The trio held site specific performances around Austin using sounds that existed at the site and homemade instruments. Among her influence she cites Feldman, Ligeti, Conrad, G. Toniutti, Gagaku, Baca, Eric B & Rakim, N. Roeg, A. Goldsworthy and non-academic intuitively minded artists and composers.
Pure Gaze is Olivia Block's first release and Sedimental feels this work will clearly place her in the realm of composers to pay very close attention to heading into the next century.
some press clips:
"Chicago based composer Olivia Block played guitar with a group called the Marble Index until 1995. Since then, using found objects and trumpet, she has engaged in site-specific performances, including work with Pauline Oliveros, and has devoted herself to electroacoustic composition that, on this evidence, demands serious attention. Pure Gaze evolves over 30 minutes starting from intriguing rustling and percussive popping. A glorious sequence of unison chords, played on wind instruments, subtly embellished with electronics, seems consciously to echo David Behrman's magisterial On the Other Ocean and Leapday Night. Then, subdued field recordings conclude this impressively assured debut." -Julian Cowley, The Wire
"Beautiful debut that mixes mysterious, unidentifiable field recordings with lush instrumental sections. This short piece contains an overwhelming simplicity and directness. Strange disconnected fragments of recognition are barely glimpsed…..representations of reality that have been carefully scraped away-sculpted. Overall, the work has a subtly cyclical, repetitive nature that is almost invisible-the structure has been submerged, completely integrated" -N D
�Olivia Block is, besides composer, a player of trumpet with Pauline Oliveros. This CD, a single, just under 28 minutes, piece uses wind instruments (trombone, english horn, and clarinet) in combination with field recordings. It's an almost traditional setting in modern classical music: music for wind-instruments and tape. This places this work in a bigger tradition of modern classical music. Quite evocative the music and sound moves through various textures, or maybe desolate landscapes is amore appropriate description. Somewhere at 20 minutes the crackles of dancehall records come through and you feel like going back in time. That's the power of this recording: going back and forth in time and space, from desolated grounds to roaring ages. It reminds me of Phil Niblock (but more in collage vein), or some of Jim O'Rourke's work. But Block surely has a voice of her own as I think this is a strong work.� �Frans deWaard, Vital