THE LOVELIGHT SISTERS: A Day for Fainting Fairies (DVD+CD)
sedcd/dvd068 | Released in 2021 | Ltd Edition 300 copies | $15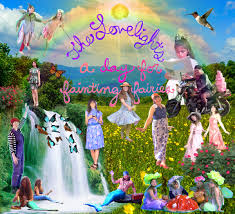 available early 2021:
From the creative well of upper Franklin County in the Pioneer Valley of Western, MA springs The Lovelights Sisters, a lovingly crafted Childrens's TV Program featuring five magical sisters: Chella, Viola, Novella, Elda and Dot as they prepare for a Ladies Club tea party.
The Lovelights is a children's television series produced by Hannah Brookman and Beverly Ketch that celebrates art, music, nature, friendship, kindness, curiosity, and community. Set in Turners Falls, Massachusetts, the show features a family of quirky, artistic, and magical sisters, who find themselves on a series of adventures when they discover faeries living in their town.
Debuted in 2019, A Day for Fainting Fairies is a swirling feast of eye candy packed with song, incidental music and everything else in between. Charming, idiosyncratic, and irresistible for all ages.
DVD features the first episode plus five additional Lovelight Sisters films (105 minutes total) and a cast that is a veritable who's who of creatives from throughout the Franklin County.
CD contains the complete soundtrack of eighteen songs featuring Big Blood, Jeremy Pisani, Ruth Garbus, Leaf Peepers, Liz Tonne, Feathers, Wendy Eisenberg, and many more (46 minutes)
$12 post-paid (U.S.) special advance/early release until March 31st, 2021($15 after April 1)
Paypal: sedimental@earthlink.net or https://sedimental.bandcamp.com/merch
1. "The Lovelights Theme" Written by Beverly Ketch, Performed by Shannon Ketch, Kevin Smith, Omeed Goodarzi and Beverly Ketch. Recorded by Omeed Goodarzi
2. "<3" By Dose Lonely Boys
3. "Grandma Moses" By The Highland Circle Old Time Players
4. "Angel and Devil" By Wendy Eisenberg
5. "Plenty of Time" Written by Beverly Ketch,
Performed by Annabell Cole, Beverly Ketch and Gordon Spencer-Blaetz
6. "Feathers" by Feathers
7. "Pritty Please Theme" By Jason Martin Animal Power System
8. "Fainting Fairy" By Helen Rush
9. "Mantra" By Leaf Peepers
10. "Ladies Club Piano" By Liz Tonne
11. "Mermaid" By Ruth Garbus and Omeed Goodarzi
12. "A Fire & Ice Situation" By Leaf Peepers
13. "Lovelights Party" By Big Blood
14. "Dot's Camper" By Jeremy Pisani
15. "Call All My Dawgz!" By Sam Gas Can
16. "Motorcycle Song" By Jeremy Pisani
17. "Tea Party" By Big Blood
18. "Shrug" By Ruth Garbus and Omeed Goodarzi

Produced by The Lovelight Sisters and Looky Here Inc.(2019/2020)