AARON RUSSELL: Red Guitar
sedcd063 | Released in 2017 | Ltd Edition 300 copies | $12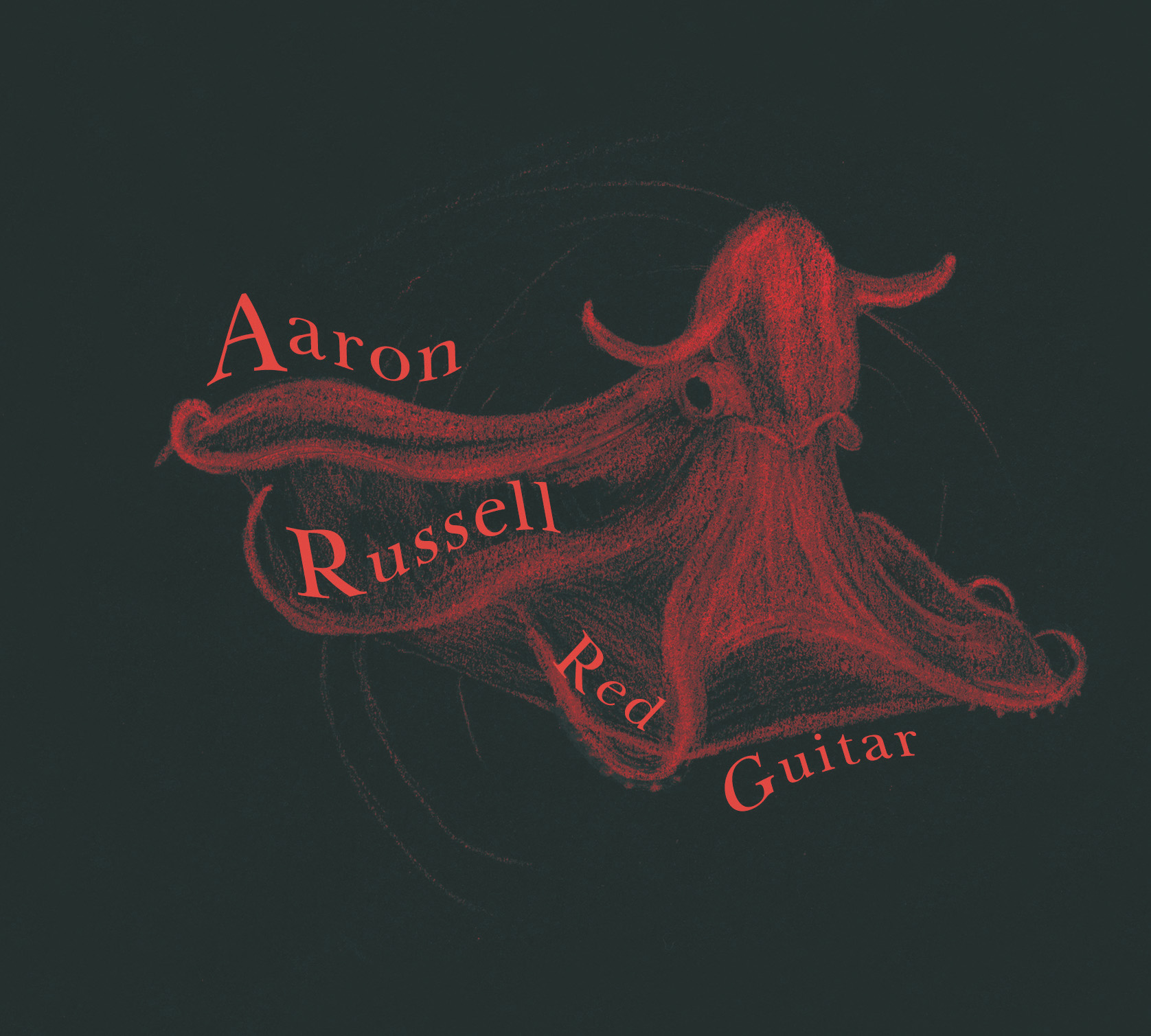 ***A link to listen to two cuts from Red Guitar can be found at the bottom of the page***
As longtime fans and supporters of the remarkable musical entity known as The Weird Weeds, there was little doubt that its members Nick Hennies (now Sarah), Sandy Ewen, Lindsey Verrill and Aaron Russell would all continue to grace us with their musical genius in different ways after the group ceased in 2014. For guitarist Aaron Russell this included the modal, prog-ish stylings of the Moonsicles project as well as venturing out on solo guitar in live settings. Russell approached us as a sounding board for his new work knowing we were a sympathetic ear having released The Weird Weeds (sedlp60) in 2012 and subsequently their last document but also heaping praise on the two later Moonsicles releases. With Russell sending the material that would ultimately comprise Red Guitar and having been enchanted by these sparse yet deep meditations, quickly the discussion moved to the stages of a formal release also providing the spark to revive Sedimental after a multi-year hiatus.
"Red Guitar consists of a series of seven compositions for fingerpicked electric guitar, all recorded with the same (red) guitar and amp at my home in Austin, Texas, during the fall of 2016. The pieces are all played in 5-string open G tuning (GDGBD). The creative process for the album started when I was invited to play at a friend's birthday party and I realized that the piece I was planning to play ("Pink Lights" on this album) did not require the low D string, so I removed it. I realized that the piece sounded better without the extra resonances from the low D and was easier to play, and was inspired to compose and record a series of pieces in the same tuning. Red Guitar is the result. The album reflects my long-standing love of the pure, clean sound of unaffected electric guitar and combines sustained, meditative attention with a somewhat mercurial or intuitive approach to composition stemming from many years spent recording skeletal sketch recordings for rock band compositions. The music maps, in a highly personalized and distilled way, some of the vocabulary of acoustic folk and blues guitar playing onto the more stark and plain sound of a clean electric guitar, and leans toward a quiet self-expression that respects and honors the listener and the space created by the act of listening."
Biography
Aaron Russell, a native of Nashville Tennessee, now residing in Austin, Texas, has been playing guitar in a series of idiosyncratic bands since high school in the late 1980s. His longest project was The Weird Weeds, with whom he recorded five albums and an EP and toured North America multiple times, and he has recorded two albums with his current band, Moonsicles. He also performed and recorded with Nitre Pit, The Frothy Shakes, The Scallions, The Cherry Blossoms and THETEETHE in San Francisco and Nashville before relocating to Austin in the early 2000s. He lives with his wife, Sheila Scoville (also a member of Moonsicles), and their three dogs, Zoe, Zorro, and Barbara. Other interests include long-distance cycling and jigsaw puzzle design. Red Guitar is his first solo guitar release.
Selected Discography
Moonsicles
Bay of Seething (Feeding Tube, 2016)
Creeper (self-released, 2014)
The Weird Weeds
The Weird Weeds (Sedimental, 2012)
Help Me Name Melody (Autobus, 2010)
I Miss This (Autobus, 2008)
Weird Feelings (Sounds Are Active, 2006)
This Is Not What You Want (Sounds Are Active, Internet-only release and self-released CDr, 2005)
Hold Me (Digitalis, 2004)
THETEETHE
Shelle (self-released CDr, 2003)
Wave Off (self-released CDr, 2001)
The Cherry Blossoms
The Cherry Blossoms (Apostasy et al., 2007)
The Scallions
The Scallions Sweat It Out (self-released cassette, 1999)
Spraying at Laurel's (self-released cassette, 1999)
The Frothy Shakes
Killed by Death #11 (Redrum, 1996)
Nitre Pit
Lo! (self-released, 1994)
https://soundcloud.com/a-elliot-russell/sets/red-guitar-sample-tracks