SETH CLUETT: My Own Thousand Shatterings
sedcd038 | Released in 2004 | Ltd Edition 500 copies | $10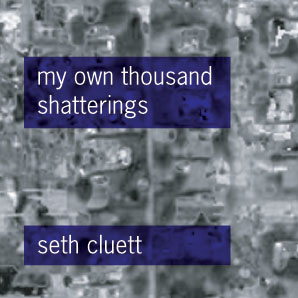 MP3s
download
Conceptualist and sonic theoretician Cluett debuts with a deep resonating masterwork. A full immersion experience that dissolves time.



"My Own Thousand Shatterings is a one hour and fifteen minute composition consisting of three sections. It is a document of my obsession with rain, though it may not be immediately apparent as to how. I love how rain varies infinitely, how the totality of it is a drone, how (much like white-noise) when it reverberates in our architecture, it pulls pitches out of the air. I love how thunder dwarfs the sound of everything for a moment, and how its sustained echo rolls spatially around us. The third piece is a stereo field recording, the second is a stereo documentation of a performance, the first was recorded in a studio to a mono reel-to-reel. The pitches for the first and second pieces came mostly from the rain of the third piece being played back in the resonance of my home, the speed of change in the first two pieces comes from my obsession with geological data about the Kutiah glacial surge that happened in Pakistan where a glacier decided to move twelve kilometers in two months. That is a very fast slow. The second piece is paced in performance by my memory of the data, the first piece is paced by my memory of the pace of the performance of the second piece. The combined pitches that came about by improvising with the frequencies originating in the field recording were then used to gently filter the field recording itself in the third piece."


Seth Cluett (b. 1976, Troy, NY) is an artist, performer, and composer whose work ranges from photography, and drawing to video, sound installation, concert music, and critical writing. Engaging the boundary between the auditory and other senses, his work is marked by a detailed attention to perception and to sound's role in the creation of a sense of place and the experience of time. The apparent tranquility of Cluett's work - at once gentle and un-nerving - is concerned with the rapidly shifting sensory landscape of technological development and urbanization.
Cluett uses minimal materials derived from close listening and observation of the environment to point up the way in which we personalize our objects and actions. Through creative mis-use of post-consumer goods, adaptive re-use of raw architectural elements, and a nostalgic obsession with dead technologies, these materials become instrumentalized. In this way, many of his pieces investigate the movement, patterns, and social organization of both work and play, while others explore the acoustic signature of specific locations, where sound is exposed as the result or goal of a social activity, a characteristic of architectural space, or a by-product of a geological process.
Cluett's work has been shown and/or performed internationally at institutions and festivals such as Kill Your Timid Notion at Dundee Contemporary Arts in Scotland; the 10th Rencontres Internationales, Palais de Tokyo Museum,√ā and GRM in Paris; Hebbel am Ufer Theater in Berlin; the Osage Art Foundation in Hong Kong; The Kitchen, WPS1/MoMA, Issue Project Room, Roulette/Location One, Experimental Intermedia, and Diapason Gallery in New York; the Institute for Contemporary Art, Studio Soto, and Mobius Artist Space in Boston; the Betty Rymer, Heaven, Artemisia, and Deadtech Galleries in Chicago; and the Deep Listening Space in Kingston, NY. He has created dance and theater works with DD Dorvillier/Human Future Dance Corp, Helene Lesterin/Atlas Dance, and Jen Mesch. His work is documented on Errant Bodies Press, Radical Matters, Sedimental, Crank Satori, BoxMedia, Stasisfield, Winds Measure, and Wavelet Records. He has published articles for BYPASS, Shifter, The Open Space Magazine, Leonardo Music Journal, 306090, Earshot, and the Journal of the Acoustical Society of America.
http://www.onelonelypixel.org/
some press clips:
"When I popped in Seth Cluett's latest CD 'My Own Thousand
Shatterings' and sank deep inside his immersive drone pieces, that is
the first two on this CD, I thought I was merely listening to the hum
of some synthesizer with some slow changes throughout. The third
piece sounded like a field recordings of rain. After thinking 'wow,
that was a nice CD of drone music', I began reading the press text
for it, and learned that the third piece is indeed a field recording,
of rain to be precise, and that the second is a documentation of a
performance and the first is a mono piece recorded at home, but that
the first two are based on the field recordings of the third piece.
How it works exactly we are not told (certainly not on the cover of
the CD), but this is certainly a worthwhile thing for lovers of drone
music. Up until now, Cluett worked mostly with densely layered small
acoustic sounds, and this new CD sees him breaking away from that,
going into an even more minimal and microscopic level of sound.
Perhaps this is a much simpler approach, or maybe even more 'easy' to
produce work, but I'd say that doesn't count. What counts is the
result and that is beautiful. The two drone pieces can easily meet
the best Niblock/Lucier works and the field recording piece is in all
it's simpleness a great moving piece."

 -Franz de Waard, Vital Weekly, 2004



" .....Three recordings make up sound artistSeth Cluett's own homage to rain,  one a field recording taken during 
a storm, the preceding two consecutive reworkings of the resulting master tape. Cluett presents the three parts 
in "reverse" order: the first was created last as a reinterpretation or a remembering of the second, which was 
performed as a live manipulation of the original tape, a performance guided by the artist's recollections of the 
experience of recording the source material, presented unchanged in the third section....The artist's emphasis 
is on the way his own perception (as a physical presence acting within a space), or even the memory of his 
perceiving, come to effect his reactions to, or processing of, particular phenomena...The artist establishes the rain's
blanketing, everywhere-at-once quality in his use of the drone, a blank constancy slow to rise and fall but one 
which opens onto an inner world of speeding detail. The manipulated rainfall becomes a rich, organ-esque
heaviness given the illusion of speed by the layering of purer sounding tones in slowly climactic modulation. 
Cluett describes being inspired by the excited movement of a glacier in Pakistan: "a very fast slow". The saturating 
effect of the disc's first two tracks is remarkable given the artist's limited resources and deliberate monotony; when
played loud the outwardly placid drones ease into streaming patterns, relentless and pummeling, though also 
comforting in the way they hold the body and the room in edgeless reverberation. While the first section is the 
more dramatic, its tones breaking several times into peaks of throbbing feedback, the second segment is longer, 
slower and eventually more successful in recreating the rain's effect as an immersive sound world of both dizzying 
speed and suspended landscape. "-

Andrew Culler, Brainwashed, 2004